Premium South East Asia in Depth
Booking Dates
06/21/2023 through 12/07/2024
Travel Dates
06/21/2023 through 01/02/2025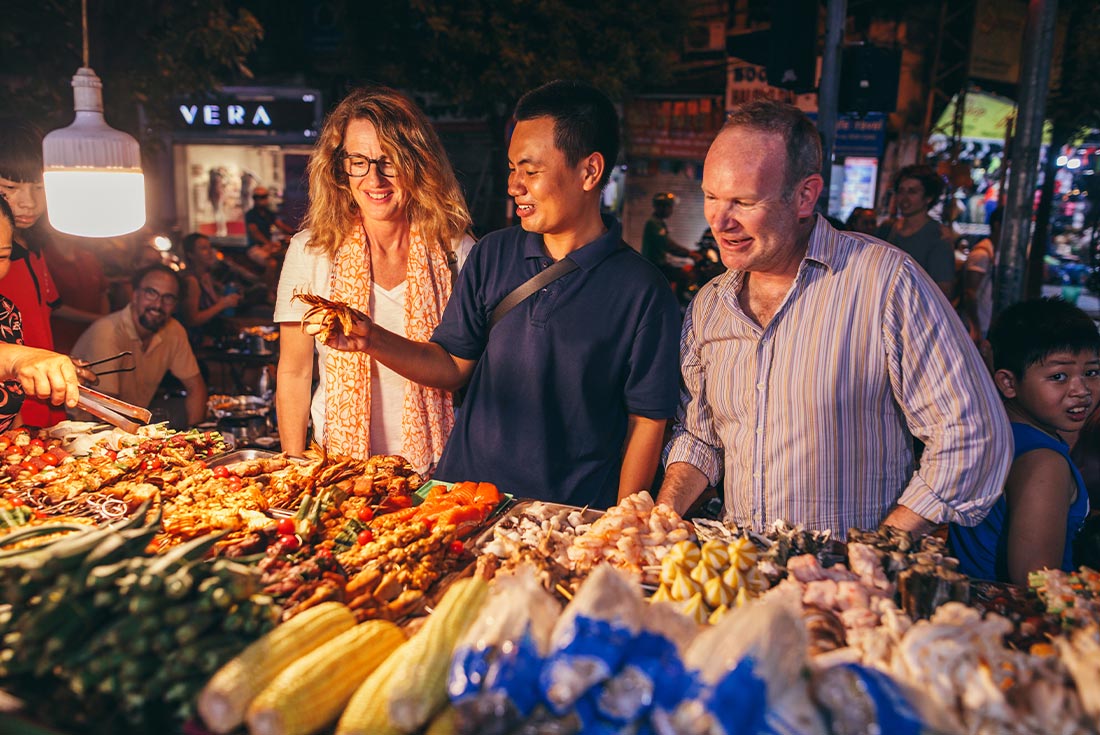 Premium South East Asia in Depth

A realm of untold history, sprawling waterways and ancient temples, South East Asia is a wonderland for travellers and explorers alike. This 24-day Premium adventure delves into the heart of Thailand, Vietnam and Cambodia, touching on the unique charm each region has to offer. Start your adventure in bustling Bangkok and venture north, where the wildlife, history and local food brings one surprise after the next. Travel into the depths of Vietnam, rich in old world culture and hidden treasures, before finally arriving in Cambodia witnessing the lost ruins of Angkor, uncovering the confronting history of the Killing Fields of Choeung Ek and the tranquillity of the Tonle Sap confluence.

Activities
Complimentary Airport Arrival Transfer
Bangkok – Welcome Dinner
Bangkok – Grand Palace
Bangkok – Wat Pho
Bangkok – Khlong boat canal tour
Bangkok – Temple Sunrise Merit Making
Benjarong – Ceramics Workshop
Kanchanaburi – Kanchanaburi War Cemetery
Kanchanaburi – Erawan National Park Visit
Kanchanaburi – Hellfire Pass Memorial Museum
Baan Nong Khao – Weaving Community Visit
Ayutthaya – Temple Visit
Ayutthaya – Traditional Rice Barge Dinner Cruise
Ayutthaya – Train to Phitsanuloke
Sukhothai – Morning Alms Offering
Sukhothai – Historical Park Visit and Bike Ride
Sukhothai – Dinner in a local home
Muang Kued – Village Visit, Cooking Class, and Handicraft Workshop
Mae Taeng – Mae Tamaan Base Camp BBQ Dinner
Chiang Mai – Elephant Nature Park Half Day Trip
Chiang Mai – Akha Ama Coffee Social Enterprise Visit
Chiang Mai – Doi Suthep Temple Visit
Chiang Mai – Farewell Dinner
Complimentary Airport Arrival Transfer
Hanoi – Welcome Dinner
Halong Bay – Overnight Boat Cruise
Hanoi – Hat Xam performance
Halong Bay – Tai Chi
Hanoi – Temple of Literature
Hanoi – Lunch at KOTO
Hanoi – One Pillar Pagoda
Hanoi – Ho Chi Minh Complex
Hoi An – Old Town walking tour
Hoi An – Pottery Village Experience
Ho Chi Minh City – Cu Chi Tunnels
Ho Chi Minh City – Reunification Palace
Ho Chi Minh City – War Remnants Museum
Ho Chi Minh City – Notre Dame Cathedral
Complimentary Airport Arrival Transfer
Phnom Penh – Welcome Dinner
Phnom Penh – Tuol Sleng Genocide Museum (S21)
Phnom Penh – The Killing Fields of Choeung Ek
Phnom Penh – Royal Palace & Silver Pagoda
Santuk Silk Farm Tour and Lunch
Skun Village Market Stop
Siem Reap – Angkor Temples Guided Tour
Siem Reap – Three day Angkor Pass
Siem Reap – Lunch at Sala Bai
Siem Reap – Angkor Wat Photography Coach
Siem Reap – Lum Orng Khmer Dinner
Siem Reap – Banteay Srei Temple visit
Siem Reap – Angkor Temples Guided Tour
Siem Reap – Private Breakfast at Srah Srong Lake
Highlights
Enjoy three fabulous Feature Stays – the immersive community-based Lisu lodge in Thailand, a tropical oasis wellness resort in Cambodia and a magnificent junk-style boat on Halong Bay in Vietnam.
Get to the heart of Vietnamese culture with Exclusive Experiences, including a soul-stirring Hat Xam performance, an afternoon in an ancient pottery village.
Enjoy two days of fully guided temple tours in Siem Reap, with in-depth insights into the history of these extraordinary structures and plenty of time at Angkor Wat, plus an Exclusive Experience morning accompanied by a private photography coach.
See the important sights of Phnom Penh on a full day guided tour. Visit the sobering Tuol Sleng Genocide Museum and the Killing Fields of Choeung Ek, then stop by a working Buddhist monastery to meet the resident monks.
Learn about Thai culture during Exclusive Experiences – 'make merit' at a local temple in Bangkok, cruise on rice barges while enjoying traditional meals and visit the village of Kup Kap, home of the Lahu people.
| Day | Description | View All |
| --- | --- | --- |
| Day 1 | Bangkok | Details |
| Day 2 | Bangkok | Details |
| Day 3 | Kanchanaburi | Details |
| Day 4 | Kanchanaburi | Details |
| Day 5 | Ayutthaya | Details |
| Day 6 | Kanchanaburi to Sukhothai | Details |
| Day 7 | Sukhothai | Details |
| Day 8 | Mae Taeng | Details |
| Day 9 | Mae Taeng | Details |
| Day 10 | Chiang Mai | Details |
| Day 11 | Chiang Mai | Details |
| Day 12 | Hanoi | Details |
| Day 13 | Halong Bay | Details |
| Day 14 | Hanoi | Details |
| Day 15 | Hoi An | Details |
| Day 16 | Hoi An | Details |
| Day 17 | Ho Chi Minh City | Details |
| Day 18 | Ho Chi Minh City | Details |
| Day 19 | Phnom Penh | Details |
| Day 20 | Phnom Penh | Details |
| Day 21 | Siem Reap | Details |
| Day 22 | Siem Reap – Angkor Wat | Details |
| Day 23 | Siem Reap – Angkor Wat | Details |
| Day 24 | Siem Reap | Details |