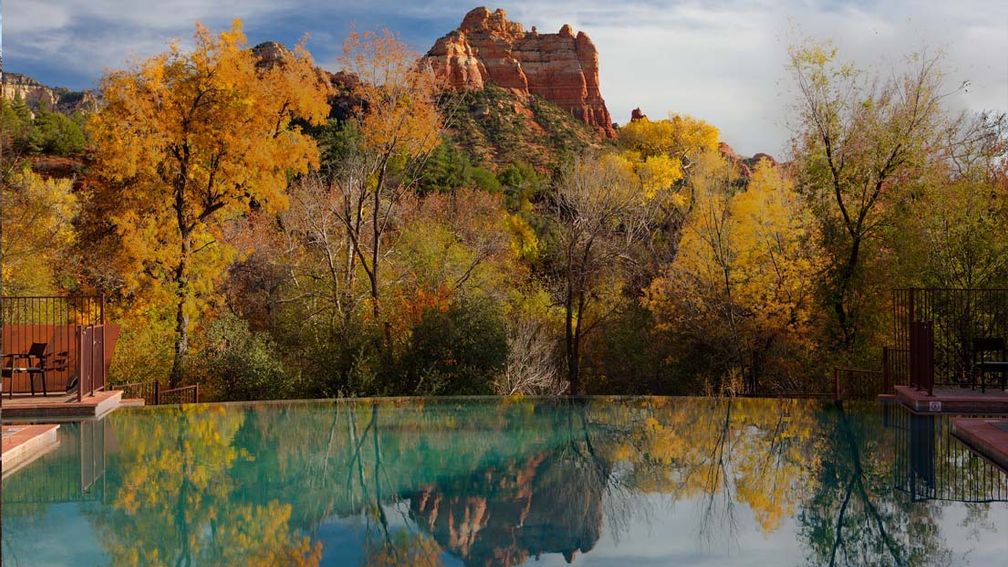 Amara Resort & Spa is located along a creek and features views of several of Sedona's famous red rocks.
Credit: 2023 Amara Resort and Spa
Some people prefer beaches. Others, pools. As for me, I am a creek person. Particularly when that creek is in front of mountains and surrounded by trees and birds.
There is certainly little that's more relaxing than sitting in a swinging chair over the water at the recently renovated Amara Resort and Spa in Sedona, Ariz., located deceptively close to lively uptown (just a few minutes' walk from the entrance), but tucked away and abutting Oak Creek, which provides the soundtrack heard from balconies, the outdoor restaurant and the pool.
SaltRock Southwest Kitchen
Tying the swing for my favorite view was SaltRock Southwest Kitchen, the hotel's exceptional restaurant with equally exceptional views of Snoopy Rock, Lucy Rock and Camel Rock, the trio of red sandstone that make up the hotel's backyard. I was thankful our server pre-emptively explained which was which, helping the rocks directly in front of us come alive with little details, such as the bird on Snoopy's "nose."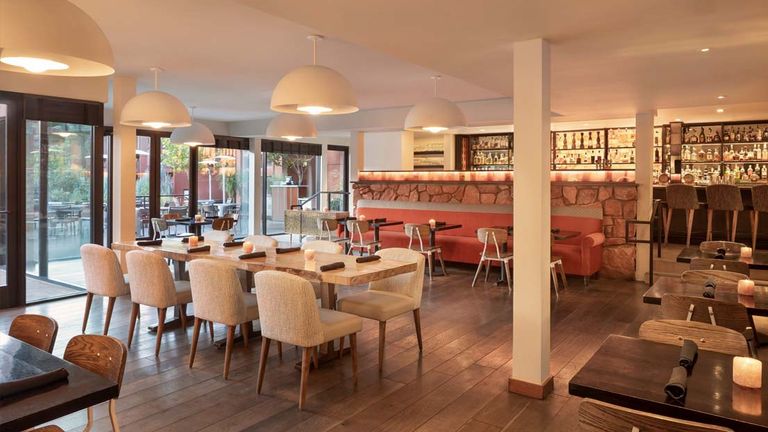 It helps that the foods and drinks here complement the view in flavor and looks. Deep orange makes a regular appearance in the food — it was present in my entree (a stuffed pepper with loads of butternut squash, with a side of black rice embedded with pico de gallo and pepitas), as well as in my husband's (a hulking cut of vibrant salmon, served with multicolor quinoa and various squashes). Dessert of flan with a ginger and citrus glaze and caramel kettle corn also perfectly fit into the cast of colors and flavors.
As the colors on our plates varied in shades and tones of orange, so, too, did the view in front of us — the highlight being when the sun quite literally shone on the mountain faces, causing them to glow for a fleeting few, but memorable, moments.
While SaltRock tries to accommodate hotel guests for dinner, it is a great idea to make reservations at the time of booking, due to the restaurant's reputation as one of the best eateries in Sedona.
Amara's Guestrooms, Pool and Spa
Traveling with a toddler meant that I could not hike as much as I would have liked, so I was thankful that the property envelops guests in the best of Sedona's scenery and ambiance. Formerly a Kimpton property — but owned by Northwood Hospitality since 2019 — the property still has that boutique, communal and pet-friendly vibe typical of Kimpton hotels. At the lawn that leads up to the infinity pool, cornhole and oversize blocks are interspersed among yellow Adirondack chairs. Guests mingle over games, or while admiring each other's dogs.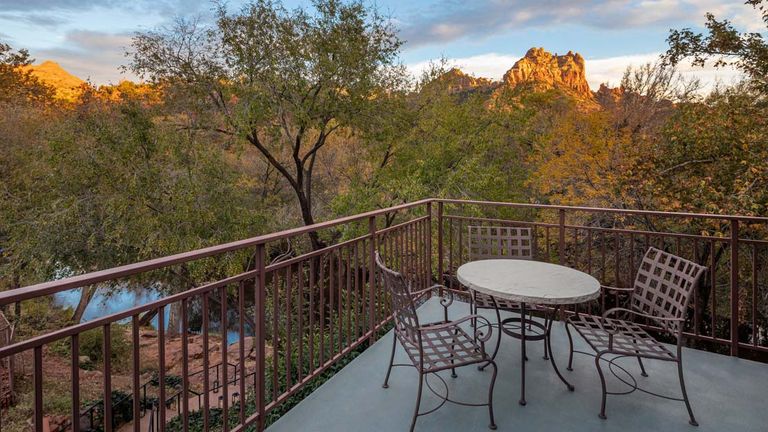 My two-year-old loved collecting sticks and rocks by the creek, which she called her "playground."
And at night, folks sit around firepits and admire the bright stars — clearly in focus thanks to the area's lack of light pollution.
The hotel — burnt orange and shaped like a butte — features 100 guestrooms that were all refreshed as part of the $100 million renovation completed in 2021. The neutral palate features natural materials, such as wooden headboards and woven textiles, that provide an earthy complement to the outdoors. Most rooms offer balconies that look out to the infinity edge pool or, in our case, the mountains and creek.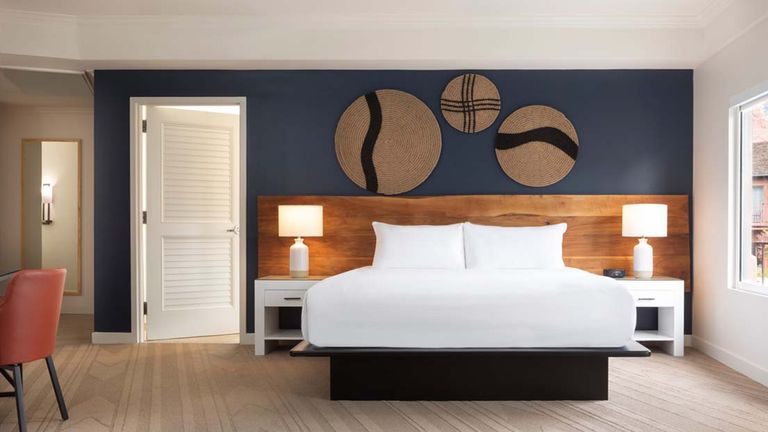 Our 720-square-foot Creekside One-Bedroom Suite, the largest accommodation available, suited the three of us well and was easily accessible with its first-floor location. And a separate living room, bedroom and bathroom, with its own entrance door and balcony access, guaranteed that my husband and I were never nap-trapped. Occasionally, we could hear a dog running on the top floor above us, so for guests who want guaranteed quiet, a top floor room might be a better pick.
Complementing the relaxing setting is the spa, located in a separate building across from the hotel's entrance, which also housed the 24-hour gym. The spa is petite, but the treatments pack in the Sedona energy. The signature 90-minute Winds of Change massage begins with chakra balancing via sage, crystals, native rattles and oils, while the Sedona Serenity Gemstone facial features massage techniques using lapis, jade wands, white opalite and gua sha gemstones.
Whether it's through a spa treatment or a meal, Amara's expert embrace of its surroundings makes for a stay that is uniquely Sedona.
Author: Mindy Poder